Non-Profit Charter School Governance Board Training
If you are a new charter school boar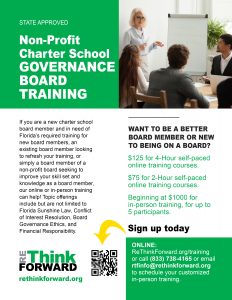 d member and in need of Florida's required training for new board members, an existing board member looking to refresh your training, or simply a board member of a non-profit board seeking to improve your skill set and knowledge as a board member, our online or in-person training can help! Topic offerings include but are not limited to Florida Sunshine Law, Conflict of Interest Resolution, Board Governance Ethics, and Financial Responsibility.
Click here to sign-up for one of our self-paced online training courses. You will need a TalentLMS account to register.
$125 for 4-Hour online training course
$75 for 2-Hour online training course
Pricing for in-person training for up to 5 participants begins at $1,000. Give us a call at (833) 738-4165 or email rtfinfo@rethinkforward.org!