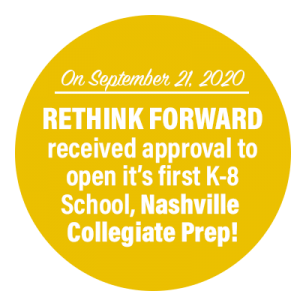 ReThink Forward is a 501(c)(3) non-profit organization that aims to provide a K-8 education option for communities and families.
ReThink Forward's mission is to use a whole-child approach to engage and strengthen students academically and socially/emotionally, resulting in positive students who are excited about learning and possibilities for their future.
Our vision is to prepare students with the knowledge and skills to become critical thinkers and lifelong learners who are equipped for success in their post-secondary opportunities and/or the workforce. We will build student confidence, teach the importance of social and emotional intelligence and ultimately nurture them to become productive citizens in a global society.
REQUEST FOR PROPOSAL FOR COMPLETE PROJECT FINANCING, SITE SELECTION AND ACQUISITION, DESIGN/BUILD, AND CONSTRUCTION MANAGEMENT SERVICES for a CHARTER SCHOOL – Due November 3, 2020
Phone: (833) 738-4165 
Mailing Address:  1831 12th Avenue South, Suite 188, Nashville, TN 37203