ReThink Forward is a 501(c)(3) non-profit organization that aims to provide a K-12 education option for communities and families.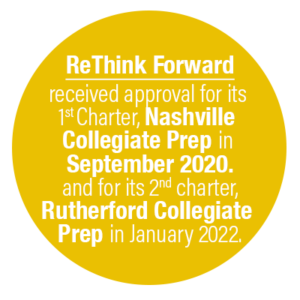 ReThink Forward's mission is to use a whole-child approach to engage and strengthen students academically and socially/emotionally, resulting in positive students who are excited about learning and possibilities for their future.
Our vision is to prepare students with the knowledge and skills to become critical thinkers and lifelong learners who are equipped for success in their post-secondary opportunities and/or the workforce. We will build student confidence, teach the importance of social and emotional intelligence and ultimately nurture them to become productive citizens in a global society.
ReThink Forward was awarded two charters by the Tennessee Public Charter School Commission.
Nashville Collegiate Prep, a kindergarten to grade 8 school that opened in August 2021 at 1638 Bell Road in Davidson County.
Rutherford Collegiate Prep, a kindergarten to grade 8 school opening in Rutherford County for the 2023-24 school year.


---

REQUEST FOR PROPOSAL
Food Service Management Company
RFP #FY2023NCP
ReThink Forward, Inc. is requesting proposals from qualified companies to select a Food Service Management Company for their school, Nashville Collegiate Prep, located at 1638 Bell Rd., Nashville, TN 37211. General Terms
and Conditions and Scope of Services for this proposal are available at here.
Proposals are due no later than 4:00 pm., Central Time, June 14, 2022, in ReThink Forward, Inc.'s office located at 1638 Bell Rd., Nashville, TN 37211. Proposals received after the specified date and time will be considered late
and will not be opened. Proposals will not be accepted via any form of electronic communication. However, please include a digital copy of the proposal on a USB thumb drive inside your sealed proposal package.
For questions or to request a tour or floorplan email kim@nobleeducationinitiative.com
Phone: (833) 738-4165 
Mailing Address:  1831 12th Avenue South, Suite 188, Nashville, TN 37203